visualization app
live web demo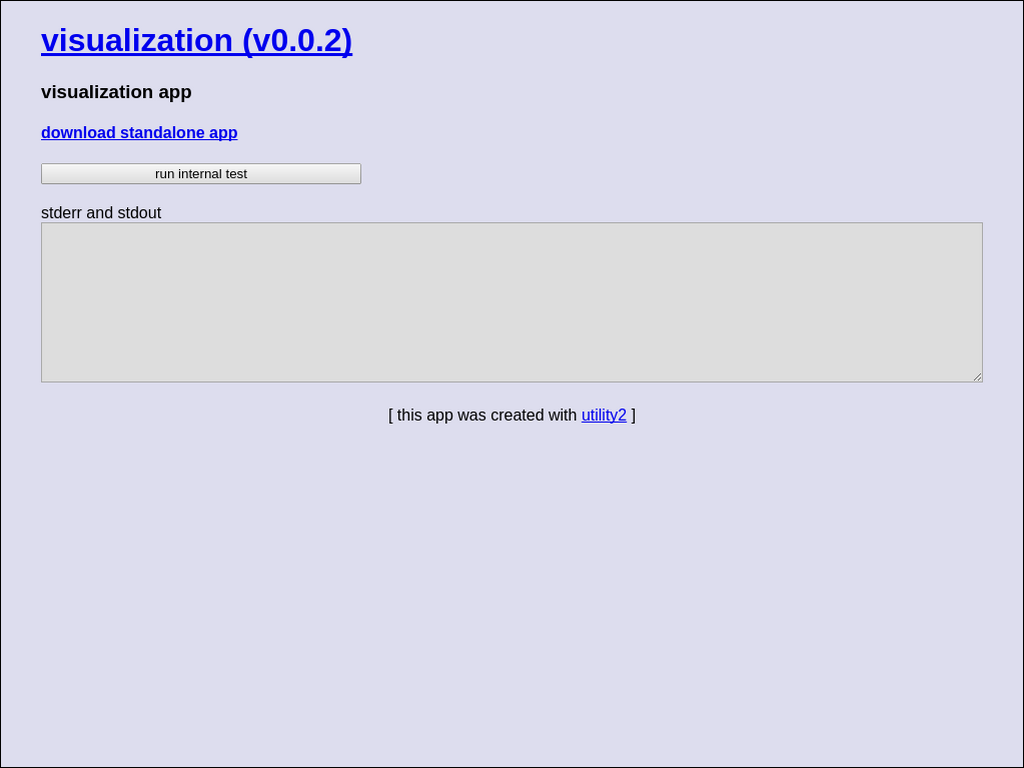 | git-branch : | master | beta | alpha |
| --- | --- | --- | --- |
| test-server-github : | | | |
| test-report : | | | |
| coverage : | | | |
| build-artifacts : | | | |
table of contents
cdn download
documentation
cli help
api doc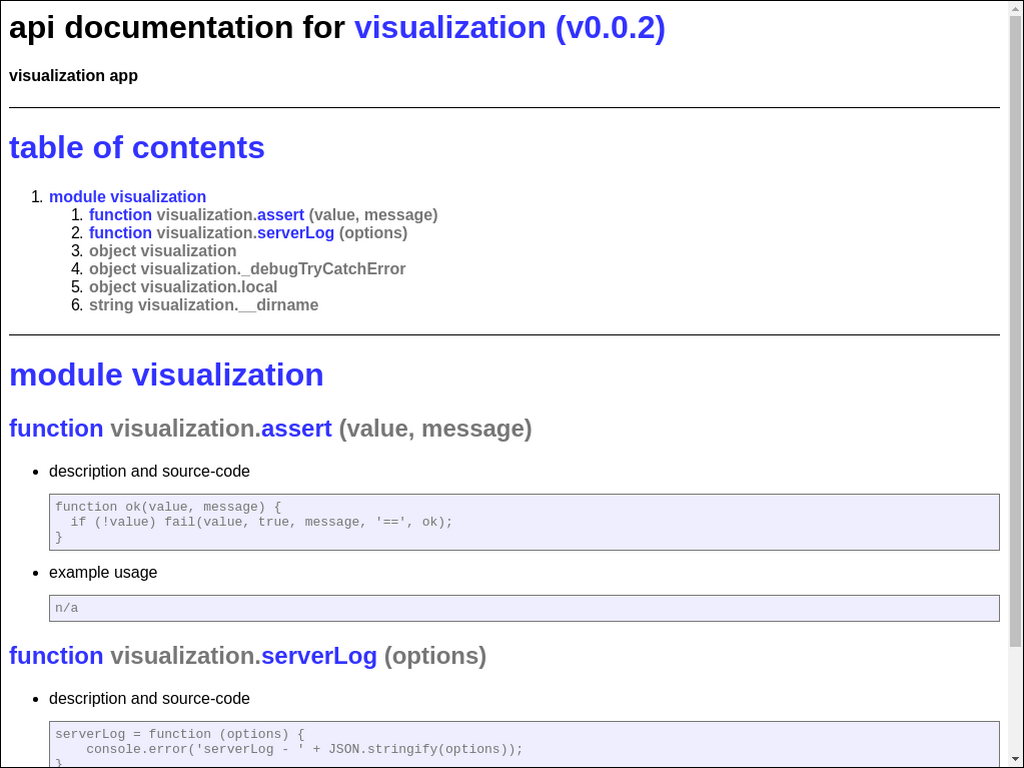 todo
changelog for v0.0.2
npm publish v0.0.2
initial app
none
this package requires
quickstart standalone app
to run this example, follow the instruction in the script below
 example.sh




 this shell script will download and run a web-demo of visualization as a standalone app




 1. download standalone app


curl -O https://kaizhu256.github.io/node-visualization/build..beta..travis-ci.org/app/assets.app.js


 2. run standalone app


PORT=8081 node ./assets.app.js


 3. open a browser to http://127.0.0.1:8081 and play with the web-demo




 4. edit file assets.app.js to suit your needs



output from browser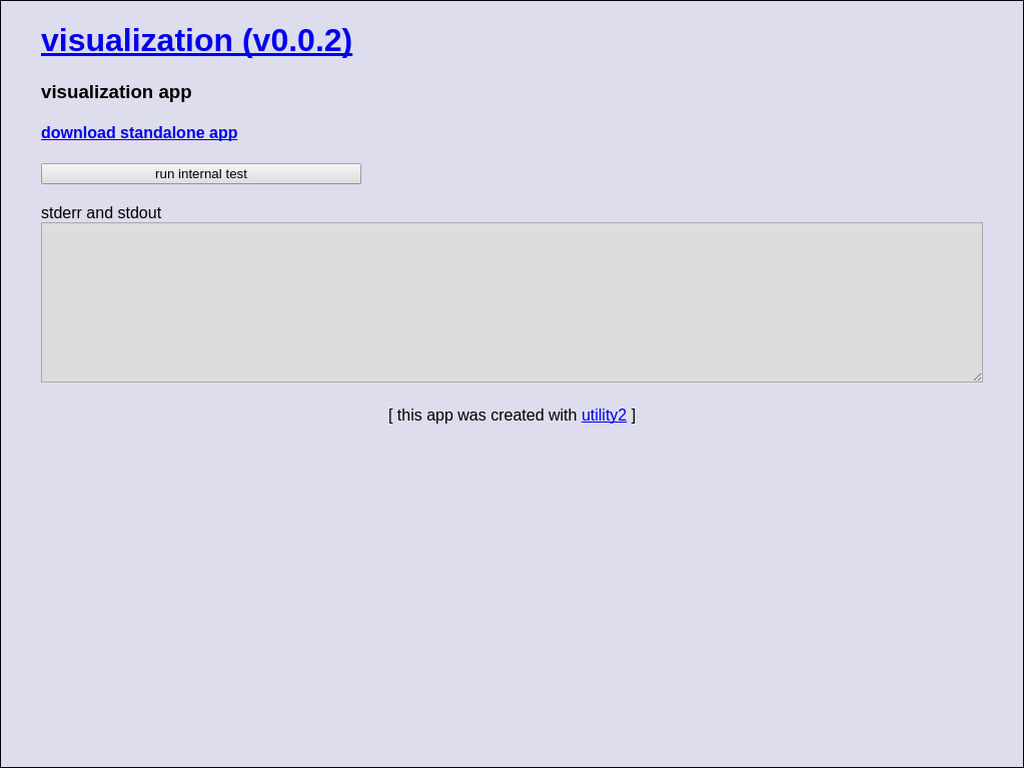 output from shell
quickstart example.js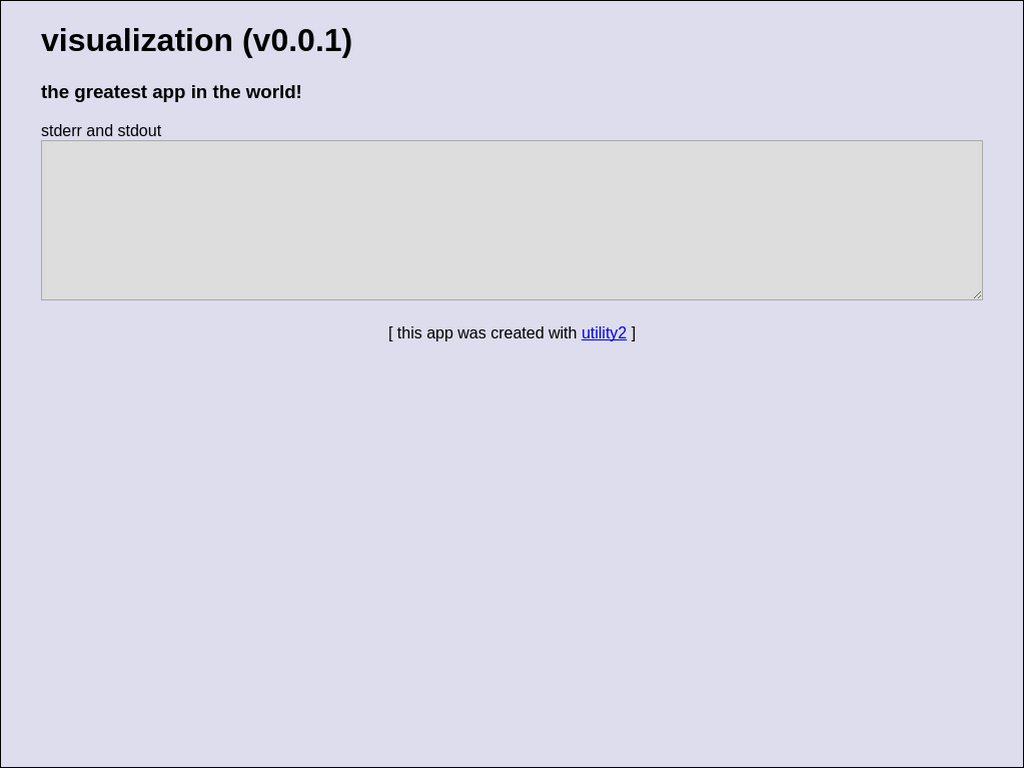 to run this example, follow the instruction in the script below
/*
example.js

this script will run a web-demo of visualization

instruction
    1. save this script as example.js
    2. run the shell command:
        $ npm install visualization && PORT=8081 node example.js
    3. open a browser to http://127.0.0.1:8081 and play with the web-demo
    4. edit this script to suit your needs
*/







/* istanbul instrument in package visualization */




/*jslint
    bitwise: true,
    browser: true,
    maxerr: 8,
    maxlen: 100,
    node: true,
    nomen: true,
    regexp: true,
    stupid: true
*/


(

function

 () {
    

'use strict'

;
    

var

 local;



    

// run shared js-env code - init-before


    (

function

 () {
        

// init local


        local = {};
        

// init modeJs


        local.modeJs = (

function

 () {
            

try

 {
                

return

 

typeof

 navigator.userAgent === 

'string'

 &&
                    

typeof

 

document

.querySelector(

'body'

) === 

'object'

 &&
                    

typeof

 XMLHttpRequest.prototype.open === 

'function'

 &&
                    

'browser'

;
            } 

catch

 (errorCaughtBrowser) {
                

return

 

module

.exports &&
                    

typeof

 process.versions.node === 

'string'

 &&
                    

typeof

 

require

(

'http'

).createServer === 

'function'

 &&
                    

'node'

;
            }
        }());
        

// init global


        local.global = local.modeJs === 

'browser'


            ? 

window


            : global;
        

// init utility2_rollup


        local = local.global.utility2_rollup || (local.modeJs === 

'browser'


            ? local.global.utility2_visualization
            : 

require

(

'visualization'

));
        

// init exports


        local.global.local = local;
    }());
    

switch

 (local.modeJs) {



    

// run browser js-env code - init-test


    

/* istanbul ignore next */


    

case

 

'browser'

:
        local.testRunBrowser = 

function

 (

event

) {
            

if

 (!event || (event &&
                    event.currentTarget &&
                    event.currentTarget.className &&
                    event.currentTarget.className.includes &&
                    event.currentTarget.className.includes(

'onreset'

))) {
                

// reset output


                

Array

.from(
                    

document

.querySelectorAll(

'body > .resettable'

)
                ).forEach(

function

 (

element

) {
                    

switch

 (element.tagName) {
                    

case

 

'INPUT'

:
                    

case

 

'TEXTAREA'

:
                        element.value = 

''

;
                        

break

;
                    

default

:
                        element.textContent = 

''

;
                    }
                });
            }
            

switch

 (event && event.currentTarget && event.currentTarget.id) {
            

case

 

'testRunButton1'

:
                

// show tests


                

if

 (

document

.querySelector(

'#testReportDiv1'

).style.maxHeight === 

'0px'

) {
                    local.uiAnimateSlideDown(

document

.querySelector(

'#testReportDiv1'

));
                    

document

.querySelector(

'#testRunButton1'

).textContent = 

'hide internal test'

;
                    local.modeTest = 

true

;
                    local.testRunDefault(local);
                

// hide tests


                } 

else

 {
                    local.uiAnimateSlideUp(

document

.querySelector(

'#testReportDiv1'

));
                    

document

.querySelector(

'#testRunButton1'

).textContent = 

'run internal test'

;
                }
                

break

;
            

// custom-case


            

default

:
                

break

;
            }
            

if

 (

document

.querySelector(

'#inputTextareaEval1'

) && (!event || (event &&
                    event.currentTarget &&
                    event.currentTarget.className &&
                    event.currentTarget.className.includes &&
                    event.currentTarget.className.includes(

'oneval'

)))) {
                

// try to eval input-code


                

try

 {
                    

/*jslint evil: true*/


                    

eval

(

document

.querySelector(

'#inputTextareaEval1'

).value);
                } 

catch

 (errorCaught) {
                    

console

.error(errorCaught);
                }
            }
        };
        

// log stderr and stdout to #outputTextareaStdout1


        [

'error'

, 

'log'

].forEach(

function

 (

key

) {
            

console

[key + 

'_original'

] = 

console

[key];
            

console

[key] = 

function

 () {
                

var

 element;
                

console

[key + 

'_original'

].apply(

console

, 

arguments

);
                element = 

document

.querySelector(

'#outputTextareaStdout1'

);
                

if

 (!element) {
                    

return

;
                }
                

// append text to #outputTextareaStdout1


                element.value += 

Array

.from(

arguments

).map(

function

 (

arg

) {
                    

return

 

typeof

 arg === 

'string'


                        ? arg
                        : 

JSON

.stringify(arg, 

null

, 

4

);
                }).join(

' '

) + 

'\n'

;
                

// scroll textarea to bottom


                element.scrollTop = element.scrollHeight;
            };
        });
        

// init event-handling


        [

'change'

, 

'click'

, 

'keyup'

].forEach(

function

 (

event

) {
            

Array

.from(

document

.querySelectorAll(

'.on'

 + event)).forEach(

function

 (

element

) {
                element.addEventListener(event, local.testRunBrowser);
            });
        });
        

// run tests


        local.testRunBrowser();
        

break

;



    

// run node js-env code - init-test


    

/* istanbul ignore next */


    

case

 

'node'

:
        

// init exports


        

module

.exports = local;
        

// require builtins


        

Object

.keys(process.binding(

'natives'

)).forEach(

function

 (

key

) {
            

if

 (!local[key] && !(

/\/|^_|^sys$/

).test(key)) {
                local[key] = 

require

(key);
            }
        });
        

// init assets


        local.assetsDict = local.assetsDict || {};
        

/* jslint-ignore-begin */


        local.assetsDict[

'/assets.index.template.html'

] = 

'\
<!doctype html>\n\
<html lang="en">\n\
<head>\n\
<meta charset="UTF-8">\n\
<meta name="viewport" content="width=device-width, initial-scale=1">\n\
<!-- "assets.index.default.template.html" -->\n\
<title>{{env.npm_package_name}} (v{{env.npm_package_version}})</title>\n\
<style>\n\
/*csslint\n\
    box-sizing: false,\n\
    universal-selector: false\n\
*/\n\
*,\n\
*:after,\n\
*:before {\n\
    box-sizing: border-box;\n\
}\n\
body {\n\
    background: #dde;\n\
    font-family: Arial, Helvetica, sans-serif;\n\
    margin: 0 40px;\n\
}\n\
body > a,\n\
body > button,\n\
body > div,\n\
body > input,\n\
body > pre,\n\
body > select,\n\
body > span,\n\
body > textarea {\n\
    margin-bottom: 20px;\n\
}\n\
body > button {\n\
    width: 20rem;\n\
}\n\
button {\n\
    cursor: pointer;\n\
}\n\
pre {\n\
    overflow-wrap: break-word;\n\
    white-space: pre-wrap;\n\
}\n\
@keyframes uiAnimateShake {\n\
    100% {\n\
        transform: translateX(0);\n\
    }\n\
    0%, 20%, 60% {\n\
        transform: translateX(10px);\n\
    }\n\
    40%, 80% {\n\
        transform: translateX(-10px);\n\
    }\n\
}\n\
.uiAnimateShake {\n\
    animation-duration: 500ms;\n\
    animation-name: uiAnimateShake;\n\
}\n\
.uiAnimateSlide {\n\
    overflow-y: hidden;\n\
    transition: max-height ease-in 250ms, min-height ease-in 250ms, padding-bottom ease-in 250ms, padding-top ease-in 250ms;\n\
}\n\
@keyframes uiAnimateSpin {\n\
    0% { transform: rotate(0deg); }\n\
    100% { transform: rotate(360deg); }\n\
}\n\
.utility2FooterDiv {\n\
    text-align: center;\n\
}\n\
.zeroPixel {\n\
    border: 0;\n\
    height: 0;\n\
    margin: 0;\n\
    padding: 0;\n\
    width: 0;\n\
}\n\
</style>\n\
<style>\n\
/*csslint\n\
*/\n\
textarea {\n\
    font-family: monospace;\n\
    height: 10rem;\n\
    width: 100%;\n\
}\n\
textarea[readonly] {\n\
    background: #ddd;\n\
}\n\
</style>\n\
</head>\n\
<body>\n\
<div id="ajaxProgressDiv1" style="background: #d00; height: 2px; left: 0; margin: 0; padding: 0; position: fixed; top: 0; transition: background 500ms, width 1500ms; width: 0%; z-index: 1;"></div>\n\
<div class="uiAnimateSpin" style="animation: uiAnimateSpin 2s linear infinite; border: 5px solid #999; border-radius: 50%; border-top: 5px solid #7d7; display: none; height: 25px; vertical-align: middle; width: 25px;"></div>\n\
<script>\n\
/*jslint\n\
    bitwise: true,\n\
    browser: true,\n\
    maxerr: 8,\n\
    maxlen: 100,\n\
    node: true,\n\
    nomen: true,\n\
    regexp: true,\n\
    stupid: true\n\
*/\n\
(function () {\n\
    "use strict";\n\
    var ajaxProgressDiv1,\n\
        ajaxProgressState,\n\
        ajaxProgressUpdate,\n\
        timerIntervalAjaxProgressUpdate;\n\
    ajaxProgressDiv1 = document.querySelector("#ajaxProgressDiv1");\n\
    setTimeout(function () {\n\
        ajaxProgressDiv1.style.width = "25%";\n\
    });\n\
    ajaxProgressState = 0;\n\
    ajaxProgressUpdate = (window.local &&\n\
        window.local.ajaxProgressUpdate) || function () {\n\
        ajaxProgressDiv1.style.width = "100%";\n\
        setTimeout(function () {\n\
            ajaxProgressDiv1.style.background = "transparent";\n\
            setTimeout(function () {\n\
                ajaxProgressDiv1.style.width = "0%";\n\
            }, 500);\n\
        }, 1500);\n\
    };\n\
    timerIntervalAjaxProgressUpdate = setInterval(function () {\n\
        ajaxProgressState += 1;\n\
        ajaxProgressDiv1.style.width = Math.max(\n\
            100 - 75 * Math.exp(-0.125 * ajaxProgressState),\n\
            Number(ajaxProgressDiv1.style.width.slice(0, -1)) || 0\n\
        ) + "%";\n\
    }, 1000);\n\
    window.addEventListener("load", function () {\n\
        clearInterval(timerIntervalAjaxProgressUpdate);\n\
        ajaxProgressUpdate();\n\
    });\n\
}());\n\
</script>\n\
<h2>\n\
<!-- utility2-comment\n\
    <a\n\
        {{#if env.npm_package_homepage}}\n\
        href="{{env.npm_package_homepage}}"\n\
        {{/if env.npm_package_homepage}}\n\
        target="_blank"\n\
    >\n\
utility2-comment -->\n\
        {{env.npm_package_name}} (v{{env.npm_package_version}})\n\
<!-- utility2-comment\n\
    </a>\n\
utility2-comment -->\n\
</h2>\n\
<h3>{{env.npm_package_description}}</h3>\n\
<!-- utility2-comment\n\
<h4><a download href="assets.app.js">download standalone app</a></h4>\n\
<button class="onclick onreset" id="testRunButton1">run internal test</button><br>\n\
<div class="uiAnimateSlide" id="testReportDiv1" style="border-bottom: 0; border-top: 0; margin-bottom: 0; margin-top: 0; max-height: 0; padding-bottom: 0; padding-top: 0;"></div>\n\
utility2-comment -->\n\
\n\
\n\
\n\
<label>stderr and stdout</label>\n\
<textarea class="resettable" id="outputTextareaStdout1" readonly></textarea>\n\
<!-- utility2-comment\n\
{{#if isRollup}}\n\
<script src="assets.app.js"></script>\n\
{{#unless isRollup}}\n\
utility2-comment -->\n\
<script src="assets.utility2.rollup.js"></script>\n\
<script>window.utility2.onResetBefore.counter += 1;</script>\n\
<script src="jsonp.utility2.stateInit?callback=window.utility2.stateInit"></script>\n\
<script src="assets.visualization.js"></script>\n\
<script src="assets.example.js"></script>\n\
<script src="assets.test.js"></script>\n\
<script>window.utility2.onResetBefore();</script>\n\
<!-- utility2-comment\n\
{{/if isRollup}}\n\
utility2-comment -->\n\
<div class="utility2FooterDiv">\n\
    [ this app was created with\n\
    <a href="https://github.com/kaizhu256/node-utility2" target="_blank">utility2</a>\n\
    ]\n\
</div>\n\
</body>\n\
</html>\n\
'

;
        

/* jslint-ignore-end */


        [
            

'assets.index.css'

,
            

'assets.index.template.html'

,
            

'assets.swgg.swagger.json'

,
            

'assets.swgg.swagger.server.json'


        ].forEach(

function

 (

file

) {
            file = 

'/'

 + file;
            local.assetsDict[file] = local.assetsDict[file] || 

''

;
            

if

 (local.fs.existsSync(local.__dirname + file)) {
                local.assetsDict[file] = local.fs.readFileSync(
                    local.__dirname + file,
                    

'utf8'


                );
            }
        });
        local.assetsDict[

'/'

] =
            local.assetsDict[

'/assets.example.html'

] =
            local.assetsDict[

'/assets.index.template.html'

]
            .replace((

/\{\{env\.(\w+?)\}\}/g

), 

function

 (

match0, match1

) {
                

// jslint-hack


                

String

(match0);
                

switch

 (match1) {
                

case

 

'npm_package_description'

:
                    

return

 

'the greatest app in the world!'

;
                

case

 

'npm_package_name'

:
                    

return

 

'visualization'

;
                

case

 

'npm_package_nameLib'

:
                    

return

 

'visualization'

;
                

case

 

'npm_package_version'

:
                    

return

 

'0.0.1'

;
                

default

:
                    

return

 match0;
                }
            });
        

// init cli


        

if

 (

module

 !== 

require

.main || local.global.utility2_rollup) {
            

break

;
        }
        local.assetsDict[

'/assets.example.js'

] =
            local.assetsDict[

'/assets.example.js'

] ||
            local.fs.readFileSync(__filename, 

'utf8'

);
        

// bug-workaround - long $npm_package_buildCustomOrg


        

/* jslint-ignore-begin */


        local.assetsDict[

'/assets.visualization.js'

] =
            local.assetsDict[

'/assets.visualization.js'

] ||
            local.fs.readFileSync(
                local.__dirname + 

'/lib.visualization.js'

,
                

'utf8'


            ).replace((

/^#!/

), 

'//'

);
        

/* jslint-ignore-end */


        local.assetsDict[

'/favicon.ico'

] = local.assetsDict[

'/favicon.ico'

] || 

''

;
        

// if $npm_config_timeout_exit exists,


        

// then exit this process after $npm_config_timeout_exit ms


        

if

 (

Number

(process.env.npm_config_timeout_exit)) {
            setTimeout(process.exit, 

Number

(process.env.npm_config_timeout_exit));
        }
        

// start server


        

if

 (local.global.utility2_serverHttp1) {
            

break

;
        }
        process.env.PORT = process.env.PORT || 

'8081'

;
        

console

.error(

'server starting on port '

 + process.env.PORT);
        local.http.createServer(

function

 (

request, response

) {
            request.urlParsed = local.url.parse(request.url);
            

if

 (local.assetsDict[request.urlParsed.pathname] !== 

undefined

) {
                response.end(local.assetsDict[request.urlParsed.pathname]);
                

return

;
            }
            response.statusCode = 

404

;
            response.end();
        }).listen(process.env.PORT);
        

break

;
    }
}());

output from browser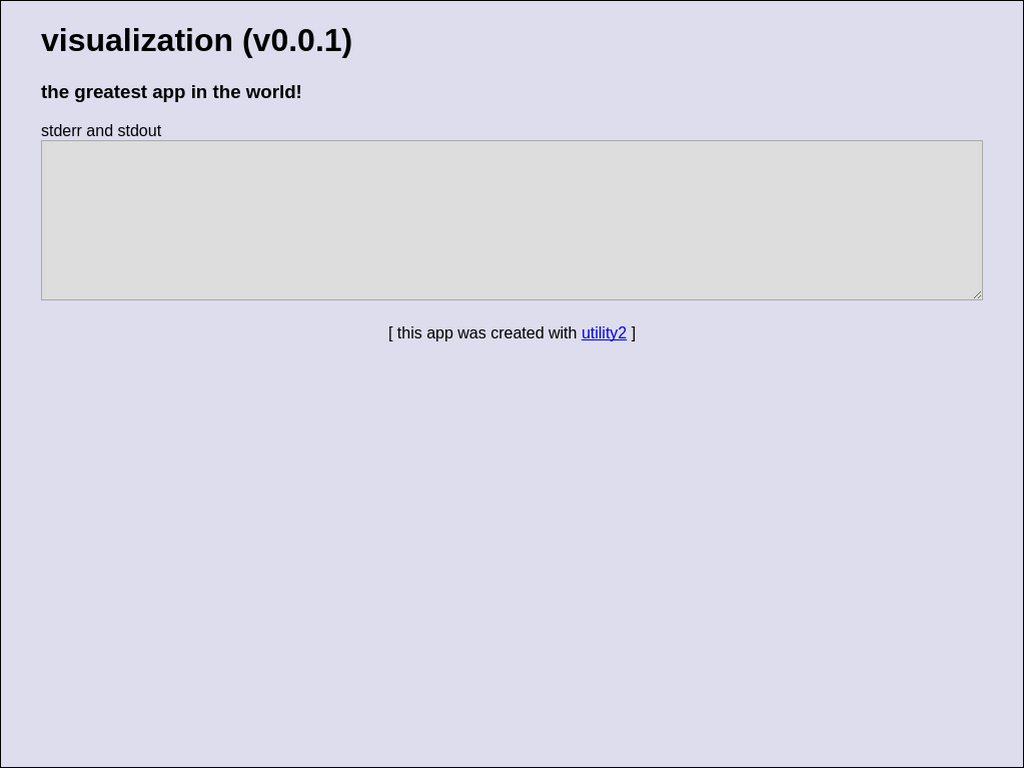 output from shell
extra screenshots
package.json
{
    

"author"

: 

"kai zhu <kaizhu256@gmail.com>"

,
    

"description"

: 

"visualization app"

,
    

"devDependencies"

: {
        

"electron-lite"

: 

"kaizhu256/node-electron-lite#alpha"

,
        

"utility2"

: 

"kaizhu256/node-utility2#alpha"


    },
    

"engines"

: {
        

"node"

: 

">=4.0"


    },
    

"homepage"

: 

"https://github.com/kaizhu256/node-visualization"

,
    

"keywords"

: [],
    

"license"

: 

"MIT"

,
    

"main"

: 

"lib.visualization.js"

,
    

"name"

: 

"visualization"

,
    

"nameLib"

: 

"visualization"

,
    

"nameOriginal"

: 

"visualization"

,
    

"os"

: [
        

"darwin"

,
        

"linux"


    ],
    

"repository"

: {
        

"type"

: 

"git"

,
        

"url"

: 

"https://github.com/kaizhu256/node-visualization.git"


    },
    

"scripts"

: {
        

"build-ci"

: 

"utility2 shReadmeTest build_ci.sh"

,
        

"env"

: 

"env"

,
        

"heroku-postbuild"

: 

"npm uninstall utility2 2>/dev/null; npm install kaizhu256/node-utility2#alpha && utility2 shDeployHeroku"

,
        

"nameAliasPublish"

: 

""

,
        

"postinstall"

: 

"[ ! -f npm_scripts.sh ] || ./npm_scripts.sh postinstall"

,
        

"start"

: 

"PORT=${PORT:-8080} utility2 start test.js"

,
        

"test"

: 

"PORT=$(utility2 shServerPortRandom) utility2 test test.js"


    },
    

"version"

: 

"0.0.2"


}

changelog of last 50 commits
internal build script
 build_ci.sh


 this shell script will run the build 

for

 this package

shBuildCiAfter() {(set -e
    # shDeployCustom
    shDeployGithub
    # shDeployHeroku
    shReadmeTest example.sh
)}

shBuildCiBefore() {(set -e
    #!! shNpmTestPublished
    shReadmeTest example.js
)}


 run shBuildCi


eval $(utility2 source)
shBuildCi

misc
Development
Invalid date between commits
Ready for the next level?
Join Openbase's founding team to help us build the ultimate open-source app store, work with the latest technologies, and enjoy great culture, impact and autonomy

Openbase helps developers choose among and use millions of open-source packages, so they can build amazing products faster.
© 2020 Devstore, Inc.